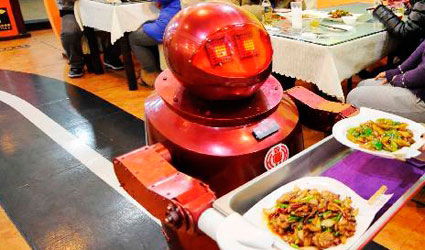 A RESTAURANT in China has replaced its waiters with robots that cook, serve and attend to customers. Robot Restaurant, in the city of Harbin, has a workforce of 20 robots that tirelessly work for five hours.
After that they need two hours to recharge their batteries. But they seem to be very efficient as they make noodles, fry –or steam- dumplings and bring the food to the tables running along tracks on the floor.
They're even said to sing when the diners hold their chopsticks. The only humans in the restaurant, apart the customers, are the kitchen supervisors. 
The restaurant opened in the summer of 2012 and ever since has attracted customers willing to be served by machines.
Robot chefs are not new to Chinese people. Catering businessman Cui Runguan is known for selling noodle-making robots.
These peculiar cooks, named Cui Runguan, are sold for €1,600 per unit, certainly a lot less than what a human chef would earn per year.