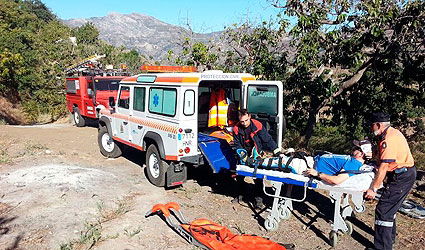 A GERMAN paraglider was rescued after injuring his leg in an accident in Almuñecar. A Civil Protection unit, firefighters, Almuñecar Local Police and the Guardia Civil Mountain Unit were called in to help the man, injured in the Gelibra area in the north of Almuñecar.
The man dialed 112 and contacted the emergency services for help, giving them his position by describing his coordinates. "Once we had pinpointed his location a Civil Protection Ambulance and firefighters of Almuñecar, along with a police patrol quickly located the German man, who had injured his leg on a rock.
"The emergency services believed he had possibly broken or fractured his ankle," said the head of the Civil Protection Unit, Cecilio Fajardo.
"A Guardia Civil Mountain Unit helicopter was also dispatched with equipment to help rescue the man. But only the stretcher was needed to move the man into the ambulance to be taken to the Almuñecar health centre,",said a spokesman from the Almuñecar firefighters who helped with the rescue operation.