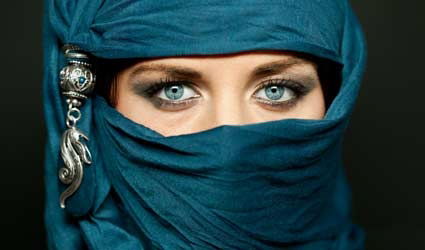 IT IS high time the British took a leaf out of France's book and came up with some proper legislation regarding the Burka. It's no good whatsoever leaving judges to decide whether the garment may be acceptable in some situations and not in others.
Most of these, often incompetent, men of law seem to have a wide range of views and often vastly different interpretations of legal paths when they're not laid out precisely in black and white.
The occasions when this primitive gown of gloom, particularly the ridiculous slitted hood, cannot be worn, should be laid down in law and strictly adhered to. To my mind these women should be banned from wearing it, without exception, in all professions that deal with the general public.
This particularly includes nurses, those who tend the elderly, banks and all females who work or travel on public transport. The veil should also be completely removed when signing cheques, paying by credit card, travelling through customs or appearing in court. In fact if it's banned in all the same places as smoking, those who don this provocative head bag could be made to feel so uncomfortable and ostracized that they give it up all together.
Is it not also extremely interesting that this garb is very notable by its absence at events, such as the Proms, Trooping the Colour; The Lord Mayor's Parade or anywhere near a Remembrance gathering? (As Señor Littlejohn recently observed in the Daily Mail; 'ever seen a poppy on a Burka?') In fact nowhere near anything that may be considered part of the UK's cultural heritage!
So much for integration. I think that rather sums up the whole unacceptable anti-British attitude of those who hide behind this venomous veil. I can suggest a number of countries who would be only too happy to welcome them on to their streets (assuming they are prepared to walk a half dozen paces behind their, similarly boringly attired men folk that is!).
And finally on a lighter not, I would like to publicly thank the anonymous gentleman, who found my daughter's lost mobile phone and subsequently went to great lengths to have it unlocked, traced back and returned to her. She was over the moon. A very merry Christmas to you sir.
Contrary to popular belief, honesty is still alive, well, and hopefully thriving on Mallorca.
On an even finally final note. Why is it that, to most adults, the announcement that Christmas is once again approaching at a rapid rate of knots, often met by feelings of oppressive doom and rising stress levels? Nothing to do with the fact that the little darlings' letters to Santa are now topped with requests for 'toys' that cost hundreds of pounds I suppose? Ah well, labour on.
Keep the Faith.
Love Leapy.   [email protected]