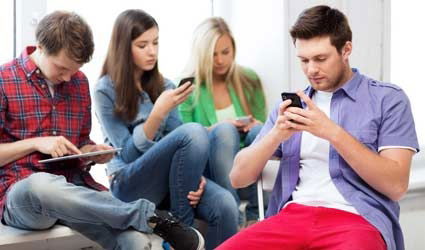 HOW often do you check your mobile phone? A few times a day, maybe once an hour at the most? Wrong. If you fall into the average person bracket, you actually check your phone 110 times each day and up to every six seconds at peak evening times, according to reports from the Android application Locket, which surveyed 150,000 users. Others put this figure higher still.
With this in mind, I came upon a short film doing the circuit on YouTube and Facebook called 'I forgot my phone'. A young woman leaves her mobile phone at home and spends the day observing friends and strangers interact with their phones. It soon becomes clear that this small rectangular box rules and apparently validates our lives in a way that is at once bizarre, funny and scary.
The film brings to mind the philosophical question, if a tree falls in the forest and no one is around to hear it, does it still make a sound? Equally, if a birthday photo, snapped on your 'box', is not posted on a social network, did it still take place? Or, if you do not share your life in images does it still have a value? Clearly the answer is yes, but how did we become so obsessed with this little miniature computer?
Is it that, judged frame by frame, life is just a series of largely repetitive events, interspersed by random twists, while if you pick out the edited highlights, your life takes on the meaning of your choice. From sporting events and triumphs to jolly lunches and glossy dinners, as opposed to the frequency of the alarm going off at the same time every day, the same drive, the same routine.
Psychologists claim that looking at your own profile on Facebook does enhance our sense of well-being, presumably because you remember your good times, much like you once did sifting through the pages of a real photo album.
On the other hand, if you spend time perusing other people's timelines and postings it could lead to feelings of inadequacy and depression. Other people seem to travel more, live better, have more friends and more fun. The grass is always greener on the other side of the fence – or so it seems.
While the modern mobile is your own personal paparazzi, ready to record at any given moment, it is of course also a constant gateway to communication. It wasn't that long ago that it was physically possible to survive with a landline alone and people with those large brick-like contraptions were annoying oddities, screaming 'hello?' at the top of their voices in restaurants.
Forgetting the mobile for a day brings me out in mild panic – largely because my children's school may need to contact me, but also because I am so used to be able to see any inward calls, text or email message instantaneously. And the people who sent it expect immediate responses. In this way the mobile is more of a tennis raquet, fielding calls and lobbing them back over the net in a never ending match.
The only way to break the cycle of dependence on the 'box' is to do what that short film suggests. Leave the phone at home. Be unavailable for just a couple of hours. And perhaps get a life – one that does not exist for the sake of Facebook, Twitter or SMSs, but solely to enhance and create the most vivid of pictures that last a lifetime – your memories.