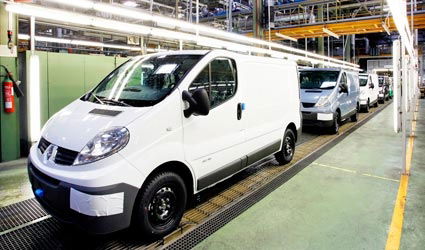 INDUSTRIAL output in Spain rose in September year on year, the first annual rise since February 2011.
The National Statistics Institute (INE) said that output rose 1.4 per cent over the same month in 2012.
That was good news and a sign that the country may have turned the economic corner.
In August manufacturing output had been down 2.1 per cent  compared to a year previously.
The news comes hot on the heels of a rise in Gross Domestic Product (GDP), of 0.1 per cent in the second quarter of the year after nine consecutive quarters of recession.
Overall Spain relies more on service industries for employment and economic output than manufacturing, but its industries have been starting to export themselves out of trouble. Many businesses have switched their sights abroad away from the depressed home market.
The INE said that all sectors of industry, except energy, registered growth, led by the machine tools industry which saw a rise of 8.4 per cent.
The Spanish car industry is also growing with Ford and Nissan leading the way with significant investments made to build more models in the country.
Fresh food and nondurable consumer goods saw a rise of 5.3 per cent in output.
Together with reported rises in tourism so far this year, the signs of a recovery are starting to show.
But growth estimates remain low. The Spanish government is forecasting an overall 0.5 per cent shrinkage of the economy for this year, before returning to growth in 2014 with a forecasted 0.7 per cent rise in GDP.
The European Commission is not quite as optimistic. It has recently lowered its estimate for Spanish growth for next year from 0.9 per cent to 0.5 per cent. It blames high taxation, high personal debt levels and reduced government spending as part of Spain's austerity drive.