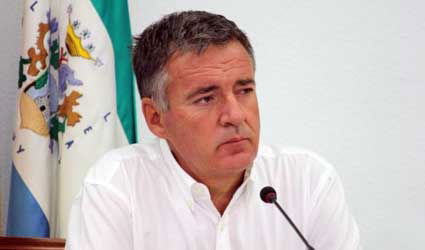 THE Mayor of Mijas, Angel Nozal, has proposed charging a tax for owning pets.
The comment was made on a social networking site, where he said: "8,000 dogs in Mijas, more than 24,000 pees per day, it is simply impossible and unthinkable to clean all the streets, pavements and corners of a town with 55,000 homes and 150km2 every day. If the pressure on the cleaning services continues, we will hold a referendum in Mijas regarding charging for owning dogs. How much should a citizen pay per day for using the streets as a place for their dogs to pee? One euro? Well 365 days times 8,000 dogs, is €2,920,000 per year. That means 300 more people on basic income to do the cleaning. But it's not that simple, will the innocent also have to pay the price? Will this mean that some people won't be able to afford to own a dog? The solution? We need a democratic decision, because the dictatorship of dirty people over the rest of the citizens has to come to an end."
The comment has led to some controversy and the mayor has said that he aims simply to encourage certain people to be more civil-minded.