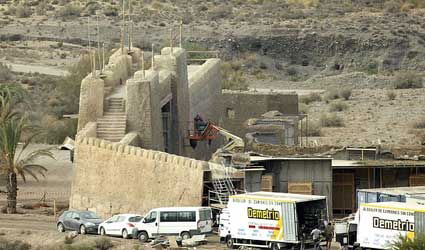 A TOTAL of 32 people who are working on the film Exodus  were trapped in a ravine in Tabernas after a sudden rain and hail storm.
The film crew was packing up for the day and collecting their equipment when the heavens opened. The storm, although not quite of biblical proportions, was fierce enough to quickly fill the Rambla del Buho with water in the area close to Fort Bravo
According to sources from the 112 Emergency Services, several calls were received from around 7pm, warning that seven vehicles were trapped.
Guardia Civil agents and two fire engines were called to the scene to help rescue the film crew. Reports indicated that all members of the crew were safe and well and it had been nothing more than a 'fright'.
The following day there were still cars stuck in the mud in the middle of the rambla and recovery trucks were needed to pull out the vehicles. However, just a few meters away, with a sunny day and good weather, filming continued with the presence of Christian Bale,with the shooting of an enormous battle involving hundreds of extras.