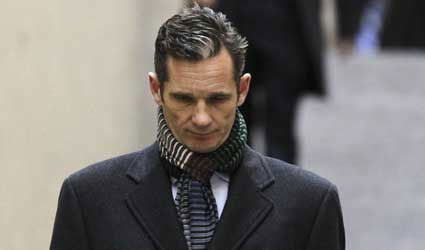 THE judge handling the Noos corruption case has ordered the embargo of several properties belonging to Royal son-in-law Iñaki Urdangarin and his former associate Diego Torres.
Jose Castro has done so in order to ensure the payment of €6.1 million in civil liability. The court wants the money paid into court to cover any possible compensation orders arising from the case.
The properties include half of the family home that Iñaki owns with his wife, Princess Cristina, in Barcelona, the Palacete de Pedralbes.
The embargo also includes other houses, storage rooms and garages in Cataluna and Mallorca which belong to the Aizoon company, co-owned by the couple.
A home in Sant Cugat del Valles, Cataluña, owned by Torres and his wife, who is also charged, has also been embargoed, as well as properties in Mataro, Mahon and Palma which are in the name of his companies.
As so much time has passed without the accused voluntarily paying the civil liability which was set by the judge, he has decided to go ahead with the embargoes.
In the case of Urdangarin, all of the embargoes are for halves of properties which he owns jointly with his wife who has not been charged.