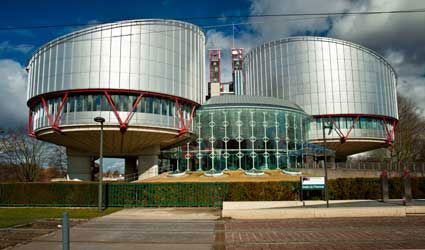 JUST when you thought the world of political correctness could not get any sillier, along comes that strange body, the European Court of Human Rights, and demands that convicted terrorists of ETA, the militant Basque separatist group, be released from prison.
Now, I have little to do with either side of the Basque conundrum, but I would feel rather concerned if a convicted terrorist – many having killed – were to set up home next door.
It seems the hand of a reluctant Spanish government has been forced in the matter, which, as with many rulings by the European Court, appears based on technicalities rather than common sense. These busy-bodies in Strasbourg, France, evidently have little else to do to justify their time, so I thought one excellent suggestion would be for them to reach out and 'adopt a terrorist'. Surely these Eurocrats have plenty of room in their fine houses (probably paid for by the European tax payer – that would be us, dear readers) to lend a comfy en-suite room to one of ETA most assiduous members.
They could bond over dinners, the busy-body perhaps sharing riveting details of red tape and bureaucracy, while the terrorist could hold court about how to make a homemade bomb to cause maximum damage. I wonder how quickly, at that point, the motion to release the prisoners would be rescinded..?
But at least that way, the families of the victims would be spared the assassins' gloating presence in their communities. And while ETA declared an end to its campaign in 2011, few would surely sleep soundly with the knowledge of whom was now skulking around the neighbourhood freely.
One of those released, Ines del Rio, was shown in the media smiling as she left the prison, where she had spent 26 years for her role in 23 murders and terrorist attacks during the 1980s. Unsurprisingly, the decision was vehemently protested against by the public and the government alike – two sides of a coin that rarely agree.
Just over a year for each kill doesn't sound like any justice I would subscribe to, yet the European Court insisted that the releases be made and, in some cases, compensation paid to the ex-convicts. Now, I believe it is more probable for pigs to fly or hell to freeze over than for any President of the United States to release confirmed terrorists early or at all.
Certainly not from a nation that is so paranoid about national security that it spies on the rest of the world in spades – another source of outrage here in Spain, where it was recently revealed that the US National Security Agency had tapped some 60 million phone calls in just one month. Strictly speaking this act was probably not politically correct or even legal, but is unlikely to cease any time soon.
I can't tell you which is worse – political correctness to the point of folly or ardent disregard and disrespect of other nations – but if I were a terrorist or criminal of any kind, there is no doubt that I would base myself in Europe, where I could wave the Human Rights flag at the first sign of trouble. Thus keeping those busy Eurocrats in jobs so generously paid for by the European tax payer.