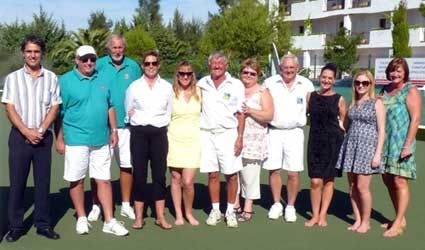 Report by Trevor Burgin
ONCE again the Lauro Golf Open was hailed a resounding success, with a record number of entries, fine weather and good bowling.
The competition on the course's bowls rinks was well supported by members of clubs along the coast, and they were treated to some excellent bowling.
There were some close results, namely the men's singles semifinal
Between Marcus Smith from the UK and John Pearce of Belplaya. the final score being 21 – 20, to Marcus.
There were no surprises in the triples with Mike Detheridge, Brian Todd and Lennie Dineen going through to the final against Malcolm Greenwood, Sandy Guthrie and Dennis King.
The weather held and finals day was warm, dry and sunny.
Brian Todd and Lennie Dineen won  the pairs, and with Mike Detheridge, also the triples, both victories over Malcolm Greenwood, Sandie Guthrie and Dennis King in the triples and with Alan Turner in the pairs.
The men's singles was won By Terry Morgan over Marcus Smith and the Ladies' Singles by Kate Morris, who beat Amber Dineen.
The presentations were made by Speed Financial Solutions and Futura Hearing.
After the presentations, the players, sponsors and spectators were treated to a buffet organized be Jenny Parkin assisted by several members of Lauro Golf bowls club,