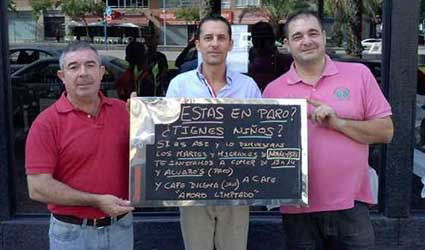 THREE Alicante restaurants are providing free meals for the jobless two days a week.
The idea came to David Galvan, owner of El Chef, when he overheard a child ask his parents if there was anything for dinner that night.  
He was so moved that he has vowed to ensure that the unemployed could eat a hot meal twice a week.
David mentioned the plan to friends, Paco, who owns Alvaro's Cafe and Javier of Cafe Dilema, who wanted to cooperate.
Throughout November on Tuesdays and Wednesdays between 1pm and 2pm, genuinely unemployed families will get a meal at El Chef.
"Above all I want to help the children," he said.
David will provide the same food that he serves to customers: salad, the Menu del Dia's main course and water.
Javier will supply coffee and Paco will make the children's merienda or tea.
"At first we thought we'd do it once a week, but it didn't seem much so we decided on two days a week to see how it goes," David explained.