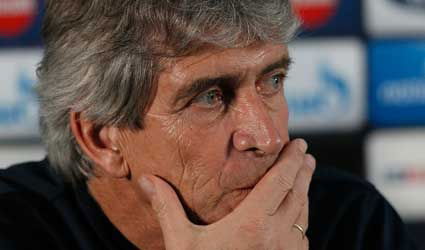 (Reuters) – Manchester City manager Manuel Pellegrini has warned CSKA Moscow fans not to racially abuse any of his players when the teams meet in the return fixture of their Champions League campaign at the Etihad Stadium on Tuesday.
Speaking to the media at his pre-match news briefing Pellegrini also confirmed that England goalkeeper Joe Hart would sit out the match, with Romanian international Costel Pantilimon continuing in his absence.
Two weeks ago a section of CSKA fans racially abused City midfielder Yaya Toure with audible monkey chants, earning a fine and a partial closure of their stadium from UEFA for their next Champions League home game against European champions Bayern Munich on November 27.
"The fans of CSKA made an important mistake," Pellegrini said on Monday. "The club – I don't know why they denied it at the beginning or what their reaction is now – but UEFA acted and gave them the punishment they deserved.
"I hope we can leave it in the past. The Russian fans should remember they have a World Cup coming up in their country."
Pellegrini said he would not offer Toure any special advice, adding: "I think Yaya is an experienced player.
"What happened in Russia maybe he can't forget but tomorrow is a special match for him, not because of that but because Manchester City can go to the next stage of the Champions League. I think he will only be thinking about football."
Pellegrini also confirmed that Hart would not make an immediate return to the side after being left out of City's Premier League game against Norwich City which they won 7-0 on Saturday.
Hart, who has hardly missed a match for his club or country in the last two years, has made a series of errors in the last few weeks and Pellegrini believes he needs a break from playing.
"I think Joe has reacted very well. He is a professional player. For him it is also a good thing to have a rest after playing so many matches.
"He is working without any problem, supporting Costel Pantilimon. Nobody wants to be out but he thinks it will be useful for him."
Pellegrini said Montenegro striker Stevan Jovetic would be out for three weeks due to a calf injury.
City beat CSKA 2-1 on October 23 to move second in Group D behind Bayern and a win on Tuesday would guarantee them a place in the knockout round for the first time, barring a highly unlikely series of results in the remaining games.