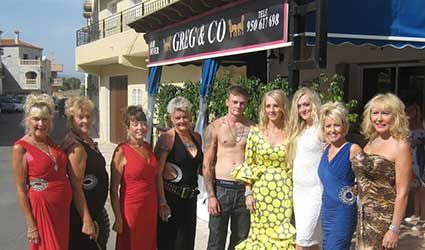 A NEW Ladies Fashion Store opened its doors on Tuesday in Turre.
The Dressing Room will be selling quality, fashionable, everyday clothes for ladies of all ages and all sizes. Ranges have been sourced from all over the globe including the UK, Italy and Scandinavia and all are at affordable prices.
Prior to the opening a fashion show took place at the Greg and Co bar in Turre on Saturday.
A sell out audience was treated to a preview of the range of clothing available in the store with seven local girls volunteering to be models.
There was also a surprise guest with a hunky bare chested male model with jeans at half mast displaying a range of boxer shorts. This  went down very well with the female audience.
The girls also had a great time strutting their stuff as they showed off  a variety of clothing from casual every day wear to elegant evening dresses.In all, around 45 to 50 outfits were paraded by the models. The Dressing Room will also be selling a small range of menswear as well as a range of skincare products for both men and women.
A special mention must be made to Michelle Byfleet who did all the hair and make up for the models and also to Greg and Co bar for their hospitality and for providing the venue which made the day such a great success.
The Dressing room is situated on the main street in Turre next to Chili Bar & Restaurant and opposite Restaurante Casa Adelina,Telephone 950 468 204.