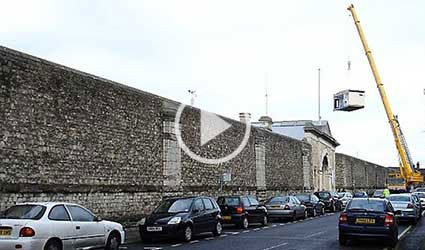 LONDON (Reuters) – Up to 180 inmates at Maidstone Prison in southeast England were involved in a "riot" on Saturday, a senior member of the prison officers' trade union told Sky News television.
Prison authorities confirmed that there had been an incident confined to one wing of the facility and said they had deployed additional prison officers.
A spokeswoman for Kent Police said the force had not been involved. The BBC said two ambulances had been at the prison for several hours in a supportive capacity but had not treated anyone.
Ralph Valerio, described by Sky News as vice-chair of the Prison Officers' Association, said he understood foreign prisoners had been involved in "concerted indiscipline" but the situation had escalated.
"As time moves on it's looking more like a riot," he said.
The official Prison Service had no immediate comment on what Valerio said or on what may have caused the incident.
Citing sources at the Prison Officers' Association, the BBC reported that prisoners were angry because their living conditions had deteriorated as a result of recent staff cuts.
In particular, the inmates felt they spent too long locked up in their cells, the BBC said.
On the Prison Service website, Maidstone Prison is described as a centre for foreign national prisoners with more than 18 months left to serve and provides liaison with the UK Border Agency.
The website says the operational capacity of the prison was 600 as of May 2009.