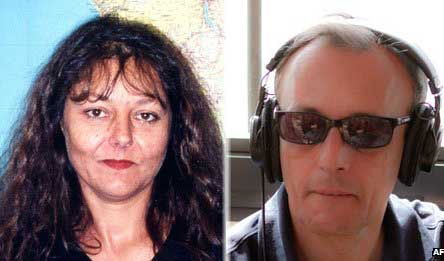 BAMAKO (Reuters) – Two French radio journalists were killed by gunmen in northern Mali on Saturday shortly after being abducted in the town of Kidal, French and Malian officials said.
The French government confirmed that 58-year old Claude Verlon and Ghislaine Dupont, 51, both journalists at RFI radio, were found dead.
"The French president … expresses his indignation over this heinous act," Francois Hollande's office said in a statement.
Kidal is the birthplace of a Tuareg uprising last year that plunged Mali into chaos, leading to a coup in the capital Bamako and the occupation of the northern half of the country by militants linked to al Qaeda.
A French-led military intervention drove out the militants but there are still pockets of insurgents and the incident dramatically highlighted the continuing security risks.
France still has about 3,000 soldiers in the country, alongside troops from Mali and the U.N. peacekeeping mission (MINUSMA), although a defence ministry official said it only had a "small and discreet" force in the Kidal region.
A local prefect, sources from the Tuareg separatist group MNLA and Malian security services told Reuters the two reporters had been killed outside the town after their abduction.
"A few minutes after a pursuit began for the abductors of the two French, we were informed that their bodies were found riddled with bullets outside the town," said Paul-Marie Sidibe, prefect of the town of Tinzawaten, who is based in Kidal.
A senior MNLA military official said the bodies had been recovered outside Kidal and a Malian security source said the journalists were killed about 12 km (8 miles) from the town.
Full details of how the journalists died were not immediately clear, although several French media reports said a French helicopter had tracked the vehicles after the kidnapping.
The French foreign ministry said it would work with local authorities to establish the circumstances of the deaths.
Hollande said his cabinet would meet on Sunday to work with the U.N. and Malian authorities to establish how they had been "assassinated."