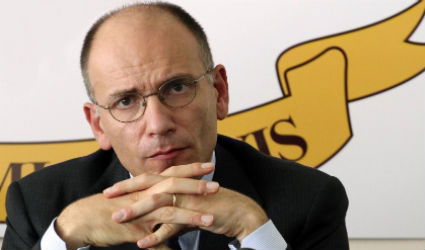 ROME (Reuters) – Italian Prime Minister Enrico Letta said his government could last until 2015 despite escalating tensions in the left-right coalition ahead of a Senate vote on whether to expel former premier Silvio Berlusconi from parliament.
The vote in the upper house Senate, due this month, has become a focus for renewed squabbling between the centre-right lawmakers of Berlusconi, who has been convicted of tax fraud, and their centre-left coalition partner led by Letta.
The coalition bickering has complicated efforts to reform the euro zone's third largest economy and pull it out of its longest post-war recession, which began in mid-2011.
Letta told La Stampa daily in an interview published on Friday he "firmly intended and was convinced of going forward" with his coalition until new national polls can be held in 2015 under a reformed electoral system.
An upper house committee decided on Wednesday the Senate vote on Berlusconi's expulsion should be open rather than secret, sparking a flood of anger from supporters of the billionaire media magnate.
The vote has also aggravated tensions between Berlusconi loyalists and moderates grouped around party secretary Angelino Alfano who want to keep backing the Letta government.
Berlusconi disputes the validity of the law under which he faces expulsion and has threatened to withdraw support for Letta if the upper house votes to kick him out.
Letta's government almost collapsed a month ago when Berlusconi tried to pull his ministers out. He then staged an abrupt U-turn after some in his party refused to back him.
"We won a very complex battle: from October 2 we have more strength and I am looking to the future with confidence," Letta told La Stampa.