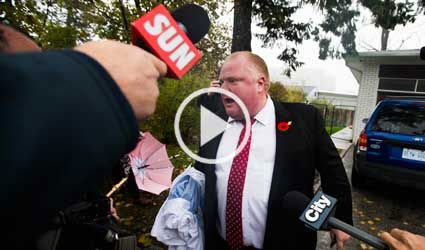 TORONTO (Reuters) – Police have obtained a video that matches one that has been alleged to show Toronto Mayor Rob Ford smoking crack cocaine, but they won't confirm what the video shows, or say if they are contemplating charges against Ford.
In a briefing on Thursday, Toronto Police Chief Bill Blair identified Ford as a subject in a video that police recovered during a drug investigation called Project Brazen 2.
"I can tell you that the digital video file that we have recovered depicts images which are consistent with those that had previously been reported in the press," Blair said.
"I think it's fair to say the mayor does appear in that video but I'm not going to get into the detail of what activities are depicted on the video."
In reports that have dominated Toronto's political scene for months, U.S. media blog Gawker and the Toronto Star newspaper said in May that their reporters were shown a video that appeared to show Ford smoking crack cocaine.
Reporters at Gawker and the Star said the video was shown to them by a man who'd contacted them and offered to sell it to them. The Star declined to pay for the video. Gawker subsequently raised funds to buy the video, but was unable to re-establish contact with the seller. Since then, there had been no confirmation that the video exists.
Ford, who insists he does not use cocaine, said at the time he could not comment on "a video that I have never seen or does not exist."
Neither he, nor his brother Doug Ford, also a Toronto politician, were immediately available to comment on Blair's statement.
Credit: Janet Marlboro (YouTube)