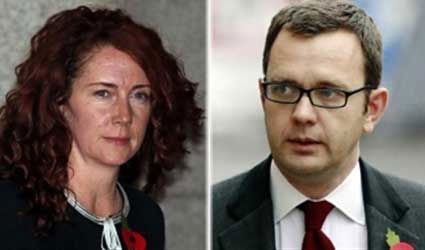 LONDON (Reuters) – Rebekah Brooks and Andy Coulson, two former editors of Rupert Murdoch's now defunct News of the World tabloid, were having an affair at the time their reporters are accused of hacking into phones, a court heard on Thursday.
Prosecutor Andrew Edis said the intimacy of their relationship indicated each knew as much as the other about how their reporters were operating. Both have denied conspiring to hack into phones or making illegal payments to public officials.
"What Mr Coulson knew, Mrs Brooks knew too. What Mrs Brooks knew, Mr Coulson knew too," Edis told the court. "That's the point."
Coulson went on to become the chief media spokesman for Prime Minister David Cameron while Brooks, a close confidante to Murdoch, went on to be chief executive of News International, the tycoon's British newspaper group.
The revelation of the affair is likely to bring more embarrassment to Cameron, who has long been accused by critics of being too close to Murdoch's News Corp media empire.
Murdoch owns The Sun and Times papers and 39 percent of pay-TV group BSkyB, which opponents say enables him to wield too much political influence in Britain.
"Mrs Brooks and Mr Coulson are charged with conspiracy, and when people are charged with conspiracy the first question the jury have to answer is, how well did they know each other?" Edis said. "How much did they trust each other?"
The affair went on from 1998 to 2004, Edis told the jury at London's Central Criminal Court.
Brooks and Coulson showed little reaction to the revelation as they sat side-by-side in the glass dock along with six other defendants, including Brooks's husband Charlie, whom she married in 2009.
The prosecutor said the relationship was discovered after police found a document containing a 2004 letter on a computer at Brooks's home. Brooks wrote the letter to Coulson after he tried to break off the relationship, Edis said.
"The fact is you are my very best friend, I tell you everything, I confide in you, I seek your advice, I love you, care about you, worry about you, we laugh and cry together," the letter said, according to Edis who read it out to the jury of nine women and three men.
"In fact without our relationship in my life I am not sure I will cope."
Edis told the jurors that it was not the affair in itself that was important to the prosecution's case.
"It isn't simply that there was an affair, it isn't to do with whether they have sexual relations with one another, (it is to do with) how close were they … and they were very close," he said.