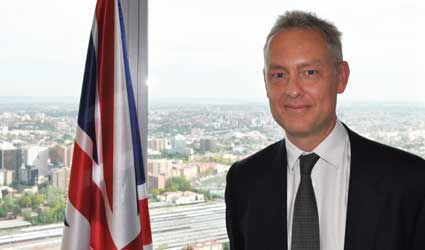 BRITAIN has a new ambassador to Spain.
Simon Manley CMG, a member of the UK's Diplomatic Service since 1990, has taken over from Giles Paxman as Her Majesty's Ambassador to Spain and non-resident Ambassador to Andorra
The new ambassador said: "I am delighted to be here in Spain and look forward to strengthening our broad and deep bilateral relationship. Spain is a key ally within the European Union and NATO and is one of our most important trading partners.
Mr Manley, who is married with three young daughters, said he was looking forward to meeting and working with companies in both Spain and the UK, whether established investors or new entrants keen to secure a foothold in their respective markets.
He served previously as the FCO's Director Defence and Strategic Threats (2008-2011), leading the Government's international counter-terrorist, counter-proliferation and counter-narcotics efforts, as head of Counter-Terrorism Policy (2006-2008) and as head of the EU Economic, Central Europe and Ireland department (2002-2006).
He has been posted to the UK's Mission to the United Nations in New York (1993-1998), where he worked on Yugoslavia and UN reform, and has twice been seconded to the European Union.
Mr Manley was made a Companion of the Order of St Michael and St George (CMG) in 2009 and a Commander of the Polish Order of Merit in 2004.
Mr Manley read Modern History at Magdalen College, Oxford and International Relations at Yale University Graduate School.