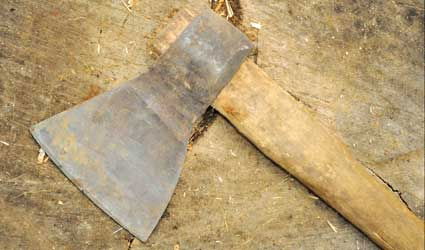 A MAN has been arrested in Palma for attacking and threatening to kill police officers and damaging cars with an axe and a large hammer.
Local Police received a call that a man was destroying the front windscreens of several parked cars between Calle Antonio Frontera and Calle Pablo Inglesias in Palma.
The Immediate Intervention Unit was dispatched to handle the situation and approached the 31-year-old African man, born in Mali who had smashed the windscreens of six cars.
The man ran from the police unit and when they caught up he confronted them. He wielded the axe and hammer, and threatened to kill the two police officers before advancing on them. According to Police reports, one officer drew his gun to stop the man getting closer and the other approached the attacker from behind and threw him to the ground.
Police disarmed the man, confiscating a large hammer with a handle of over a meter in length and a 40 centimeter axe. When searched they also found the man to be carrying a packet containing several notes amounting to €7,000.