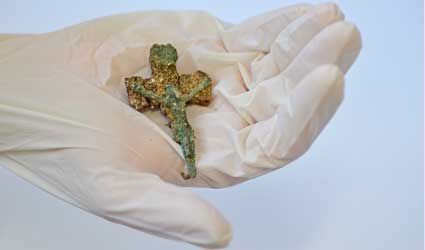 ANY infrastructure project that involves digging will uncover reminders of Villajoyosa's past. 
It came as no surprise that work on storm drains in Plaza de la Generalitat should have revealed the remains of an Augustinian convent built in 1607.
The building was demolished in the 1930s to make way for what is now the N-322 through the town, said experts from the municipal archaeological museum, Vilamuseu.
They have now uncovered part of the convent's high altar with two 17th century tombs at right angles to its foot.
Given this privileged location these must have been important personages, the archaeologists said.   One still wore a crucifix made of wood and bronze, a rosary and fragments of footwear.
The building was abandoned in 1838 at a time when anticlerical feeling ran high and legislation was introduced to confiscate Church property.  This served both to raise money for the Crown and make unused land available.
The convent building was turned into a prison, courthouse and school which were later pulled down as the town expanded and the main road was built.