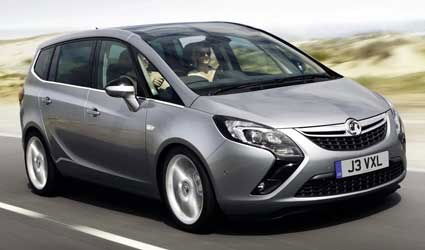 GERMAN manufacturer Opel has updated the Zafira Tourer monocab with the high performance version of its new generation midsize, direct injection petrol engine.
The new 147 kW/200 hp 1.6 SIDI Turbo engine that is designed to outrun competitors, the manufacturer claims.
The Zafira Tourer accelerates from 0-100 km/h in 8.9 seconds and features solid elasticity with acceleration from 80-120 km/h in 5th gear in just 8.3 seconds.
It reaches a top speed of 225 km/h and consumes in combined cycle 7.0 litres of petrol per 100 kilometres (according to Regulation [EC] No 715/2007) emitting 164 g/km CO2.
The heart of the SIDI turbo is a new engine block that can withstand a maximum combustion pressure of up to 130 bar in the cylinder.
The block is made of grey cast iron with an aluminum baseplate.
In contrast to the 125 kW/170 hp version, a different type of piston was developed for the 147 kW/200 hp model and the compression ratio was reduced from 10.5 to 9.5:1.
Aesthetically, the car has been updated with dual exhaust pipes located to the right and left, red 'turbo' lettering on the back and wheel sizes that range from 17 to 19 inches.
Safety and comfort highlights include a driver assistance system, a front camera with traffic sign recognition and lane departure warning, or advanced park assistance.
The interior of the Zafira Tourer includes unique functions to Opel which give rear passengers a great amount of space.
Each of the three seats in the second row can be independently folded flat, but also the back of the middle seat can be folded down to offer a comfortable armrest to the passengers.
The longitudinal movement of the remaining two seats adds extra leg room and, by sliding to the centre of the cabin, more shoulder room is created.