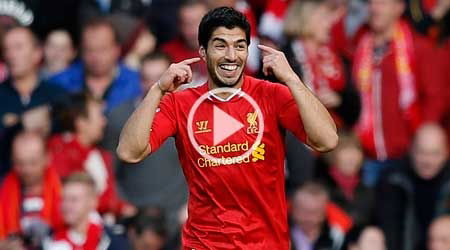 LONDON (Reuters) – Luis Suarez hit a clinical hat-trick as Liverpool thrashed West Bromwich Albion 4-1 at Anfield to keep pace with Premier League leaders Arsenal while champions Manchester United narrowly escaped another setback on Saturday.
Suarez scored twice in five first-half minutes and again after the break to keep Liverpool two points behind Arsenal, who prevailed 2-0 at Crystal Palace in an early kickoff despite having goalscorer Mikel Arteta sent off.
Dark clouds were gathering over Old Trafford where champions Manchester United twice trailed Stoke City before late goals by Wayne Rooney and Javier Hernandez earned them a 3-2 victory, staving off a fourth league defeat of the season.
Surprise package Southampton beat Fulham 2-0 in the day's late action, rising to the giddy heights of third in the table above Everton who won 2-0 at Aston Villa where Romelu Lukaku outshone fellow Belgian Christian Benteke with his side's first.
Southampton, for whom Rickie Lambert and Jay Rodriguez scored, and Everton are four points behind Arsenal.
Chelsea would move above Liverpool with victory over Manchester City on Sunday.
Suarez's first home hat-trick for Liverpool and a brilliant effort by Daniel Sturridge underlined the Merseysiders top-four credentials this season and left manager Brendan Rodgers saluting what is becoming a lethal partnership.