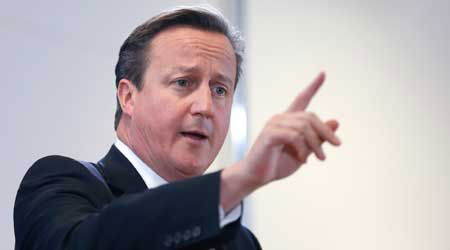 BRUSSELS (Reuters) – British Prime Minister David Cameron pressed European leaders on Friday to scrap EU red tape that London says is strangling small companies, but France warned it would not accept changes that threatened workers, food safety or the environment.
Backed by a perception that Brussels sets overbearing rules on everything from the shape of bananas to high heels in hairdressers, Cameron set out to tackle the grievances of British Euro sceptics who complain the bloc's rules are petty.
In the marble summit building in Brussels, Cameron sought support from German Chancellor Angela Merkel and six other EU leaders during a meeting that included the head of the European Commission, Jose Manuel Barroso, presenting a 60-page report.
The chief executive of Marks & Spencer, one of Britain's best-known retail chains, was also present.
"What we had today was seven leaders of EU countries coming together to discuss cutting EU red tape," Cameron told a news conference at the end of the two-day EU summit.
"We need jobs, we need enterprise and we are not going to get it if we overregulate businesses," he said, standing by a sign reading "Cut EU red tape" and brandishing a leaflet full of proposals on how to do it.
Cutting regulation is at the heart of Cameron's campaign to convince British voters that remaining in the 28-nation bloc of 500 million people is in Britain's interest before a referendum he has promised in 2015 on continued membership.
France expressed scepticism about Cameron's ideas, which include dropping proposed rules on food labelling. A French official said they were "too pro-business" and President Francois Hollande said simplifying rules meant different things to different people.
"We are in favour of everything that lightens (the load), as long as the protection of consumers, workers and the environment is guaranteed," Hollande told a news conference.
Cameron did win a promise by EU leaders in their final summit statement to support the Europe Commission in its efforts to scale back unnecessary laws under a programme dubbed "REFIT".
Leaders welcomed "the steps taken by the member states and the EU aimed at better identification of excessively burdensome regulation," the summit statement said.
"Substantial efforts are required in this respect, both at EU and national levels," it said.
RULES "UNSEXY BUT NECESSARY"
The global financial crisis and the euro zone's debt troubles have damaged faith in EU lawmaking as the European Commission, the EU executive, takes on more power to coordinate a club that has expanded across Eastern Europe.
Critics have pilloried the Commission for rules such as one preventing drinkmakers from claiming that water can treat dehydration. Brussels has had to drop plans to force restaurants to serve olive oil in sealed bottles instead of dipping bowls.
Cameron's report on red tape, compiled by business leaders and chaired by Business Minister Michael Fallon, said there were too many "pointless, burdensome and costly regulations".
It makes more than 30 recommendations, in areas from environmental safeguards to paid maternity leave. Dropping an EU rule that requires firms to keep health and safety records could save 2.7 billion euros ($3.7 billion), it said.
The Commission said this month it would review EU laws and be careful when writing new ones, marking a change of tone at the body that proposes laws for the bloc's members. Barroso has said the Commission has cut the cost of administrative burdens by 32.3 billion euros over the last five years.
But with the Commission responsible for regulating across all areas of European industry and in the process of overhauling the continent's financial architecture, there is little prospect of a huge reduction in the number of EU laws.
"Unsexy as many of the rules are, they are necessary either to prevent potentially serious harm or for the (EU) single market to work," the Commission's British-based office wrote on its website earlier this month.