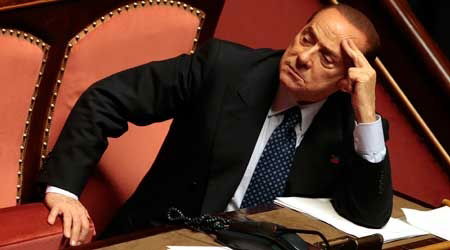 ROME (Reuters) – Former Prime Minister Silvio Berlusconi on Friday resurrected the party with which he burst into politics 20 years ago, but the move deeply divided Italy's political centre-right.
A leadership meeting of People of Freedom (PDL), as the centre-right party has been called since 2007, voted to change its name back to Forza Italia (Go Italy!).
Berlusconi said the revived party would support the government of Prime Minister Enrico Letta, as the PDL has done.
But the move caused a rift among his followers. PDL secretary Angelino Alfano and four other centre-right government ministers boycotted the leadership meeting.
Political commentators said the return of Forza Italia was an attempt to sideline Alfano and the moderates and give more weight to hardliners.
Although the move was an effective dissolution of the PDL, a statement after the meeting used the word "suspended," which commentators saw as an attempt to prevent the moderates using the old party name in the event of a schism.
The national council of the PDL, which has about 800 members, will meet on December 8 to ratify the end of the PDL and the re-birth of Forza Italia.
This was the name of Berlusconi's movement when the billionaire media magnate, now 77, entered politics in 1994.
The wrangling within the centre-right could eventually undermine the wobbly left-right governing coalition led by Letta, hobbling efforts to reform a sclerotic economy – the euro zone's third largest – which is stuck in a two-year recession.
The centre-right has come close to breaking up amid growing tension between hardliners pressing for a break with Letta's government and Alfano's moderate group which backs it.
The divisions exploded earlier this month when the moderates defied orders and backed Letta in a confidence vote in parliament, humiliating Berlusconi and forcing him to abandon an attempt to bring down the government.
RAISED TENSION
Whether the split in the centre-right will destroy the government is not clear but it is likely to raise tension with Letta's centre-left Democratic Party (PD), further dimming prospects for badly needed action to reform the economy.
The problems have been exacerbated by Berlusconi's impending expulsion from parliament over a tax fraud conviction, which has to be approved by a coming vote in the Senate and which could expose him to the risk of arrest in several other criminal cases.
Berlusconi says moves to oust him from parliament are illegitimate because the magistrates who convicted him were politically motivated and biased.
The centre-right infighting came as parliament prepares to debate a 2014 budget law that has been widely criticised for failing to cut taxes enough and doing little to reduce wasteful spending.