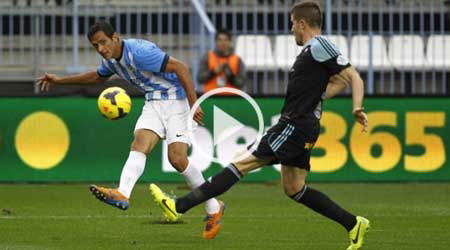 Malaga CF conceded five goals at their home ground this afternoon against Celta de Vigo, in a game marked by an early goal from Alex Loez six minutes in. The rainy afternoon didn't help the 'Malaguistas', who despite being 0-2 down, looked set to make a comeback. However they failed to make the grade and lost by 0-5, waving goodbye to three points from La Rosaleda.
Every coach always says that an early goal throws all plans made in training out of the window, and sets the standard for the entire match.  This is exactly what happened to Malaga CF this afternoon at La Rosaleda, as Alex Lopez put Celta de Vigo in the lead after six minutes.
 
Bernd Schuster selected the El Hamdaoui / Santa Cruz pairing upfront to focus on a solid attacking display.  Following Celta's first goal, heavy rain began to fall at La Rosaleda, bringing with it a sense of foreboding for the Blue and Whites, and a good day for the visitors.
 
In minute 24, Augusto took advantage of a Malaga defensive error to further increase Celta's lead by 0-2.  The Blue and Whites tried to redeem themselves, particularly from set pieces, but neither El Hamdaoui nor Chen had luck on their side to net a goal.
 
The second half got underway with two substitutions for Málaga CF.  Pedro Morales and Anderson came on to the pitch, in place of El Hamdaoui and Camacho, and the team had more presence in midfield.  Despite being the best part of the match for Malaga, they failed to get on the score board.
 
Celta de Vigo made full use of every opportunity on the pitch today, and a second goal from Alex Lopez put the visitors 0-3 up, after netting the ball following an impressive save by Willy.
 
The afternoon was about to get even worse for the 'Malaguistas'.  In the 73rd minute, Nolito launched a powerful shot at goal to put Celta 0-4 in the lead.  Charles put the icing on the cake for the visitors as he scored goal number five from inside the penalty area.