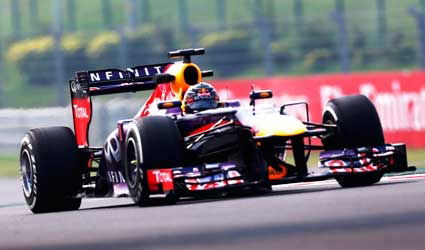 GREATER NOIDA, India (Reuters) – Sebastian Vettel promised to treat the Indian Grand Prix like any other race, despite a fourth successive title beckoning, and lived up to his word in Friday practice with the sort of domination Formula One fans have come to expect.
Red Bull's 26-year-old German was fastest in both sessions, with Australian Mark Webber the closest to matching his team mate.
Despite Vettel's speed, it was not all smooth running for the champion who had a problem with the KERS energy recovery system and complained about the soft tyres degrading too quickly.
"The tyre has too much energy, just gives up. Same for everybody," he told reporters. "Sunday it could be a short stint on the option tyre but usually the track rubbers in and things improve."
Ferrari's Fernando Alonso, the only man who can mathematically deny Vettel the title on Sunday, suffered a gearbox problem after six laps in the morning but was fifth fastest at the end of the day.
"The situation is not that different to recent races. We are a bit behind in performance terms and tomorrow we must try and get a good starting position to get away well in the race and make it to the podium," said the Spaniard.
Alonso has to finish in the top two on Sunday to have any chance of denying Vettel the title on Indian soil.
Vettel, who has a 90-point lead over the double champion with four races worth 100 points in total remaining, is the runaway favourite to win the race.
British bookmakers William Hill had him as 1/4 to win the race, 1/9 to take the title on Sunday (with odds of 5/1 on him not doing so) and 10/3 to win the rest of the season's races as well.
Such is Vettel's mastery of the Buddh International Circuit, a track swathed in a haze of pollution south of New Delhi, that he can boast of being top in every practice session held there since the opening day of the race's debut in 2011.
On Friday his best lap of one minute 25.722 seconds, in the afternoon after clocking 1:26.683 in the earlier session, made him the only driver below the 1:26 mark.
Webber, who is leaving the sport at the end of the season, was 0.188 seconds slower in the first practice and 0.281 off the pace in the afternoon when Frenchman Romain Grosjean was third with a best time nearly half a second slower than Vettel's.