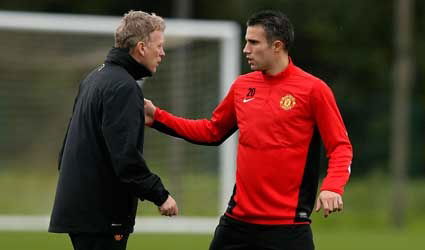 (Reuters) – Robin van Persie's likely fitness to face Stoke City will be a major boost for Manchester United as the striker's excellent scoring rate against Saturday's visitors could answer manager David Moyes's call for more goals.
The Dutchman, who missed the midweek Champions League win over Real Sociedad because of toe and groin injuries, has netted eight goals in seven league matches against Stoke.
United, who conceded an 89th-minute equaliser at home to Southampton last weekend to draw 1-1, have not got off to the best of starts in their title defence and have yet to string together back-to-back wins in the league.
They beat Sociedad 1-0 on Wednesday but despite many chances to score, particularly for Wayne Rooney, the victory was the result of an own goal and Moyes is keen for his players to start finding the net more often.
"It's a big part of the game that you don't want to concede any goals but in the same breath we'd like to score more goals so (we are) not putting ourselves in that position," Moyes told a news conference on Friday.
His side host the Premier League's least productive team in front of goal, with Mark Hughes's side having scored just four times in eight games to sit in 16th place in the 20-team table.
"I have looked at a number of combinations," former United forward Hughes told reporters.
"Peter Crouch has had a run of games, so too Kenwyne Jones, and Marko Arnautovic has played up top as well.
"It is a question of settling on one combination we feel works for us and will carry us through the vast majority of the season. At the moment we have not quite found it."
Hughes said on Thursday it was a good time to be taking on his former club because having lost three league matches already this season the champions had lost some of their "aura".
"That would be Mark's opinion and he's entitled to that," was Moyes's response as he avoided taking the bait. "We'll wait and see how game goes.
"There will be a lot of slip-ups by teams between now and the end of the season. Obviously we don't want to have any more if we can help it."
Moyes, whose side are eighth in the table with 11 points from eight games, reckoned his squad were in good shape for Saturday's game at Old Trafford (2 p.m. London time).
Van Persie has been sidelined along with central defenders Rio Ferdinand and Nemanja Vidic, midfielder Tom Cleverley and forward Danny Welbeck.
"He (Van Persie) has got a good chance, he's had problems with his toes and a little bit with his groin as well," Moyes, said.
"I think he should be okay, he's done a little bit of training so hopefully he'll be fit.
"Everybody is improving, the one who is a doubt at the moment is Danny Welbeck, he has a little bit of fluid in his knee. Tom Cleverley is still recovering from his calf (injury). Overall we're pretty strong."