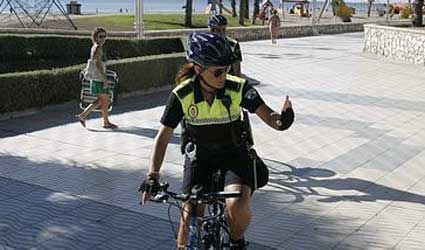 LOCAL police are being put back on bikes after the success of a summer scheme.
The success rates of the Police Cycling Unit on the Rincon de la Victoria promenade this summer has led to the service being extended all year round with patrols in the town centre.
The service will particularly target the security of areas near education centres and schools, as well as keeping an eye out for abandoned vehicles and having them removed.
The unit will also inspect and control road works, and look out for damaged and dangerous roads.
It will be responsible for investigating how well traffic lights and other road items work, as well as ensuring members of the public follow the rules and settling any problems efficiently and peacefully.
It is also hoped their presence will help prevent criminal acts.
The Police Cycling unit began as a service solely for the patrol of beach promenades during the summer months and following its success "it has been extended to the rest of the year, and the services' responsibilities have been increased, to act as a form of neighborhood police in the town centre, maintaining close contact with the urban community," according to Mayor Francisco Salado.