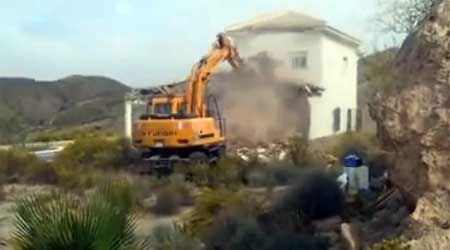 By Stephen Lear
THE demolition of two houses in Cantoria has prompted businesses to get together with local mayors to find a solution for the problem of illegal homes.
The Association of Businesses and Professionals of Albox (AEPA Almanzora Valley ) have spent years trying to address this problem and look for  possible solutions.
The first steps taken by the regional administration has been to call for a meeting of the municipalities in the area where hundreds of homes are in the same situation.
The mayors of Zurgena, Arboleas, Albox, Taberno, Cantoria, Fines, Partaloa, Albanchez, Líjar and Olula del Rio attended a meeting held yesterday afternoon (Wednesday) at the headquarters of the AEPA .
Also invited was PP Parliamentarian, Michelangelo Castellón and Territorial Delegate in Almeria , Jose Manuel Ortiz who could not attend due to 'scheduling problems'.
It is hoped that from the meeting "firm steps are taken to solve the problem of illegal homes in the Almanzora Valley of which both major parties should be in favour."
Last week the Euro Weekly News reported how the two homes, bought in good faith by British couples, had been demolished on a judge's orders.
The Junta de Andalucia forced the issue through after it was found the homes had been built without planning permission.
Despite that, the local mayor had given licences for water and electricity to be connected, meaning the developer, who has since filed for bankruptcy, free to sell the homes.