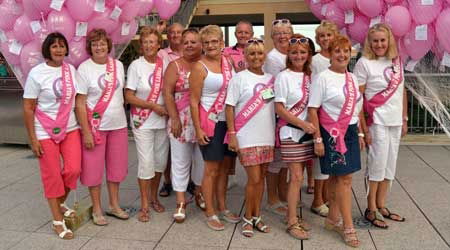 AS a mass of pink balloons floated into the Mediterranean sky tears were shed as many people remembered a loved one lost to breast cancer.
As part of International Breast Cancer Awareness Day around 1,600 helium filled pink balloons were released at Zenia Boulevard.
The day long event, hosted by the shopping centre, was organised by the AECC cancer charity's Torrevieja President Maria Wilson and her Pink Ladies.
Maria said she was blown away by the support that every one showed from all nationalities and she will never forget the sight of so many balloons being released: "It brought a tear to the eye of many in the audience and most dedicated their balloon to a loved one who lost the fight to this evil disease."
There was back to back entertainment before the release of the balloons at 7pm to the sound of Nessun Dorma being sung by classically trained Paul Michael. A total of €4,163.50 was raised on the day from the sale of the balloons and from donations
The Mayor of Torrevieja, Eduardo Dolón also marked the day with the release of dozens of balloons from Torrevieja Hospital, organised by Afecáncer charity.