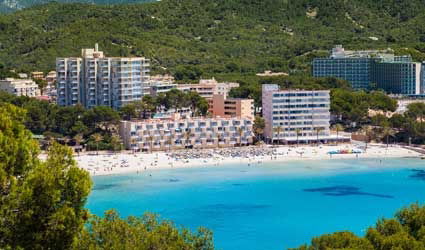 BALEARIC hotels are leading Spain in occupancy levels thanks to the British, Germans and now the Russians.
Those three groups of tourists are by far the most important to the islands, helping hotels record an average occupancy level of 82.1 per cent in September. That was the best level seen in all of Spain's Autonomous Communities.
Across the country an average 61.8 per cent of beds were taken.
And the islands were punching above their weight in the foreign tourist market. Last month 35.6 percent of all overnight stays by international visitors to the country were in the Balearics.
The top five Spanish tourist hotspots in terms of occupancy were all in the Balearics. they were, according to the INE, National Statistics Office, Son Servera (92.62 per cent), Santa Margaldia (91.96 per cent), Alcudia (91.75 per cent), Sant Josep (91.71 per cent) and Muro (89.78 per cent).
Mallorca as a whole had 83.68 per cent occupancy with Palma-Calvia registering 80.79 per cent levels.
Of the international visitors, travellers from the UK (27.5 per cent) and Germans (25.9 per cent) were the most important for hotel stays. That was a rise on the previous September of 3.2 and 1.7 per cent respectively.
The number of Russians visiting went up 15.3 per cent to make them the third most important group for hotels with 7.1 per cent of the total, overtaking the French (6 per cent).