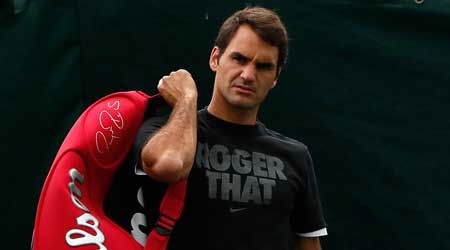 MELBOURNE (Reuters) – Roger Federer's struggles in 2013 are unlikely to hasten his exit from the game and the Swiss master could hit back and win next year's Australian Open, according to tennis great Rod Laver.
The 75-year-old Laver, the only player to win the calendar grand slam twice, suggested Federer's lean period was more akin to a drop-off in form rather than a symptom of terminal decline.
"It's a tough time. He's 32 and not playing his best tennis by any means," Laver told reporters at Melbourne Park, where he launched his autobiography "Rod Laver – A memoir" on Thursday.
"It's sometimes hard to analyse someone of that ability. But once in a while it happened to me where for no reason … you're just flat. What's happened? What is it that made you play your best tennis?
"Maybe that's going through a little bit of Roger's (mind) because I saw him play at Wimbledon. The first match he played he was just perfect, great. And in the second, he loses a match which he could probably win with his eyes closed."
A year that began strongly with a run to the semi-final at the Australian Open turned ugly with a stunning second-round exit from Wimbledon at the hands of then-116th ranked Ukrainian Sergiy Stakhovsky and a fourth-round elimination at the U.S. Open.
Now ranked sixth in the world, Federer is no certainty to play in the season-ending ATP Tour Finals, an unthinkable prospect only a few months ago.
Although admitting to suffering a crisis of confidence at Flushing Meadows, Federer has vowed to play on and has talked about the prospect of playing in another Olympics at the 2016 Rio Games.
"I don't foresee him saying he's going to hang his rackets up because he's had a bad year," said Laver, who won 11 grand slam titles and is regularly compared with Federer in debates about the game's all-time greatest player.
"I think he's going to look at this next January – and you might be surprised when you look at the champion of next year (at Melbourne Park).
"It might be Roger. He's playing good tennis (but) sometimes it's a matter of winning the right points. You don't have to win them all, just the right ones.
"He seemed like he was getting into the right position of winning the right points, but not winning them."