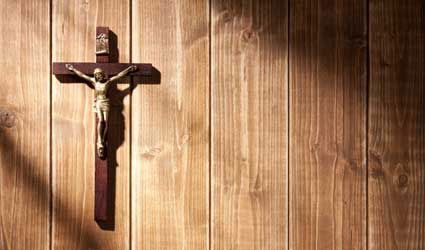 THE Spanish regard themselves as Catholic but few go to church. 
Unless, that is, it involves dressing up for wedding, christenings and first communions, weeping at funerals and turning out for processions requiring little religious commitment.
No-one denies the Church its right to honour the 522 priests, monks and nuns who died for their faith or the right to describe them as martyrs.
But it should try not to politicise their path towards sainthood.  Decades after the Constitution set it out in black and white, the Spanish hierarchy is still reluctant to accept that Spain no longer has a state religion. 
And it is still reluctant to pay much heed to its silence regarding the thousands of Republicans who died after the war, persecuted for their own type of faith.
Come on in!
SPAIN'S president Mariano Rajoy told an Austrian interviewer that the sacrifices asked of the population have been "fairly distributed."
For a certain type of politician and non-Keynesian economists this could be true.  Possibly Rajoy is correct in saying that these sacrifices have served to restore confidence in the Spanish economy.
The public see these sacrifices from a different perspective. Five years of crisis and austerity have hit every wage band and profession except the politicians.
"We're all in it together" is what voters hear.  But they are in over their heads while their leaders splash happily in the shallows.
Keeping abreast
THREE members of the global women's movement Femen interrupted the Spanish parliament as Justice minister Alberto Ruiz-Gallardon addressed the chamber.
They ripped off their tops, chanting "Abortion is sacred" in protest against Ruiz-Gallardon's plans to restrict abortion.
"Clear the public gallery with care," ordered the Speaker, Jesus Posada.
The bare-breasted girls put up a fight, clinging to columns and balustrades, but were removed from the chamber and taken to the police station.  They were released immediately, unlike Femen members in Arab countries where real courage is required and severe punishment awaits them.
Ruiz-Gallardon shrugged off the episode as "lack of respect for public sovereignty" which is not entirely accurate. 
When Spain voted overwhelmingly for Mariano Rajoy in 2011 they wanted economic recovery, not limitation of abortion.   Instead they failed to get the first and will be saddled with the second.  Some sovereignty.
'Us too!'
SPANISH politics thrive on accusations that whatever a party has done, the other has done it worse.   Now there is another syndrome to add to the "and you" disorder although this one affects regional politics. 
A re-think of the central government's funding to Cataluña would probably do a lot to tone down independence fever.  But if Cataluña gets concessions, every other autonomous region will demand them too.  And this way out will lead Rajoy into a cul-de-sac signposted "Us too."