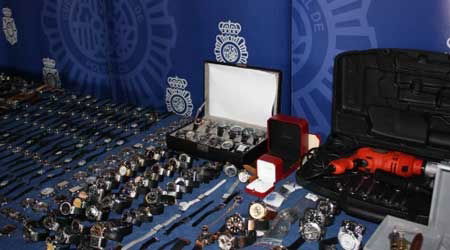 SEVENTEEN people were arrested in Madrid for their alleged involvement in a jewellery heist in which €23 million worth of items was stolen.
The National Police report that amongst the detainees, there is a known criminal known as the 'troll' who normally operated in Madrid's Golden Mile and is believed to be the mastermind behind the heist in December 2012.
The 'troll', said to be a violent common thief, is believed to have planned what is one of the largest jewellery heists in the world.
The thieves accessed the Diarsa watch shop in the Ciudad Lineal area of Madrid where they cracked the safes and stole more than 1,700 Swiss watches without raising any alarms.
Police have recovered more than 300 watches, some of them worth almost €270,000, and thanks to the collaboration of Interpol, they have located more of them in Shanghai, where they were being sold on the black market.
The mastermind contacted a Chinese criminal organisation which had several businesses open in Spain as a cover, and which received the stolen goods. Members of the organisation would take them to China in small quantities on different days.
The Spanish members of the gang took holidays in luxury urbanisations in Ibiza and Morocco, and hired out yachts.