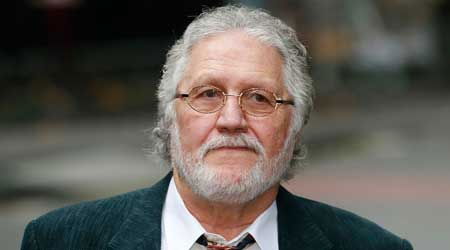 LONDON (Reuters) – One of Britain's best-known radio presenters from the 1970s and 80s, whose programmes were praised by Myanmar's Aung San Suu Kyi for entertaining her during her years in captivity, pleaded not guilty to 15 sex crimes on Tuesday at a British court.
Dave Lee Travis, 68, whose real name is David Patrick Griffin, told Southwark Crown Court he did not sexually and indecently assault women and girls as young as 15 between 1977 and 2007.
Travis, one of 14 ageing celebrities under investigation by British police, was arrested in March following an investigation prompted by revelations that the late BBC TV host Jimmy Savile was a prolific child sex abuser.
Nicknamed DLT, or the "Hairy Cornflake" for his bushy beard, Travis said last year he was astonished to learn that Suu Kyi had been a big fan of his weekly show on the BBC World Service during her 15 years under house arrest between 1989 and 2010.
His bail was extended until the start of his trial on January 13 next year at Southwark.