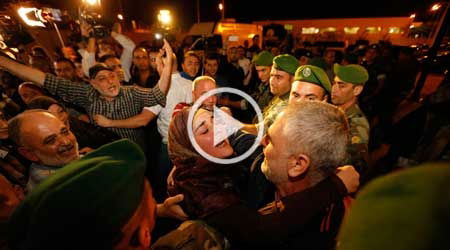 BEIRUT/ISTANBUL (Reuters) – Two kidnapped Turkish pilots arrived in Istanbul after leaving Lebanon on Saturday and nine Lebanese hostages freed from Syria landed in Beirut, completing a hostage exchange after months of uncertainty.
Prime Minister Tayyip Erdogan greeted the Turkish Airlines pilots on the tarmac as they disembarked from a Qatar Airways jet and were met with cheers from family members.
The Lebanese, seized by Syrian rebels in May 2012, were freed and left northern Syria for Turkey a day earlier as part of the deal negotiated by Qatari mediators.
At Beirut International Airport, friends and relatives ululated and cheered as the men walked onto the tarmac.
"The situation is worse than you can imagine, we paid a heavy price," said one of the hostages, who was walking with a cane, apparently from an injury sustained in captivity.
The hostages' release may in fact be a three-way deal, Lebanese security sources said. They said the release of the Lebanese was originally contingent on the Syrian government's freeing of prisoners in state detention centres.
An opposition monitoring group, the Syrian Observatory for Human Rights, said the government had released dozens of prisoners over the past few days as part of that agreement.
Turkish Foreign Minister Ahmet Davutoglu said the release underscored Turkey's diplomatic clout.
"The success of this process, which has been conducted under the instructions of our prime minister, proves once again the regional importance of Turkey," Davutoglu said in a Twitter post before the pilots landed in Istanbul.
The kidnappings highlight how complex and regionalised Syria's 2-1/2-year conflict has become. The civil war has acquired sectarian dimensions that have pulled in its neighbours.
Sunni Muslim countries such as Turkey largely back the Sunni-led uprising against President Bashar al-Assad's rule.
Shi'ite Iran backs Assad, as does the Lebanese militant group Hezbollah, which is Shi'ite and supported by Tehran. Assad is from the Alawite sect, an offshoot of Shi'ite Islam.