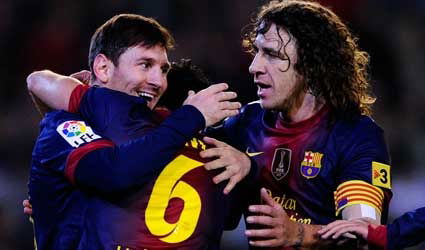 BARCELONA (Reuters) – Lionel Messi will return to Barcelona's squad after injury for Saturday's La Liga clash against Osasuna with Gerardo Martino's side also welcoming back inspirational captain Carles Puyol after a seven-month layoff.
Messi has been out since sustaining a thigh strain at Almeria at the end of last month and the World Player of the Year did not join up with Argentina for their World Cup qualifiers against Peru and Uruguay, remaining in Barcelona for treatment.
Martino told a news conference on Friday that the striker was available again while the player confirmed his return to fitness on his Instagram feed.
Centre back Puyol has been give the all clear to play after recovering from a knee injury.
The shaggy-haired 35-year-old had an operation to remove a cyst from his right knee in June, the latest in a string of injuries, including two operations on the same knee, a fractured cheekbone and a dislocated elbow.
"We'll see if he (Puyol) plays or not, but he is ready and eager to join the team," Martino told reporters.
"His excitement amazes me – he's like a boy about to make his league debut."
In another defensive boost, centre back Javier Mascherano is also available following a thigh muscle injury which has kept him out for nearly a month.
Unbeaten La Liga leaders Barca face their most challenging week of the season, following up the Osasuna clash with a Champions League showdown at AC Milan on Tuesday and then the opening "Classico" at home four days later against Real Madrid.
Despite the temptation to look ahead, Martino emphasised the need to focus only on Osasuna who are struggling in 18th place.
"They play with a lot of spirit and have improved their play of late, winning their last game (a 1-0 win over Malaga)," he said.
"They are going to pressure us from the start. We'll have to hold onto the ball and prevent their counterattacks."
Sticking with his policy of rotating players who see international duty to keep them fresh, Martino omitted Gerard Pique, Dani Alves and Alexis Sanchez from his matchday squad for Saturday.
Barca and Atletico Madrid have both taken maximum points from eight games and are poised to equal the best start in La Liga history – nine games in a row won by Real Madrid in the 1968-69 season.
Martino shrugged off the record's significance.
"The record doesn't change my thinking," he said. "The news for me will be what happens next year."