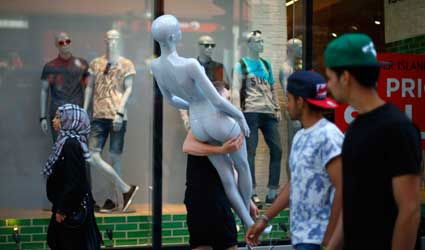 LONDON (Reuters) – British retail sales rose faster than expected in September, supporting hopes that the economy recorded strong third-quarter growth.
Retail sales volumes rose 0.6 percent on the month to show growth of 2.2 percent compared with a year earlier, the Office for National Statistics said on Thursday.
Economists had expected a rise of 0.4 percent on the month and 2.1 percent on the year.
Furniture sales provided the biggest boost for the increase in sales in September from August, likely linked to a recovery in the housing market.
Rising house prices, record low mortgage rates and hopes of economic recovery have given consumer spending a boost and a hot summer helped prompt heavy spending in July before shoppers tightened their purse-strings in August.
Food sales, which surged during July's heatwave, fell for a second month in September.
With inflation continuing to outstrip wage growth, economists have questioned whether the trend of rising consumption will be sustainable.
Store price inflation eased to an annual 0.9 percent in September, the slowest pace since April and down from 1.6 percent in August.
Retailers are generally still wary about the outlook for their businesses. In recent weeks store groups, including Tesco and Sainsbury's, have highlighted how consumers' disposable income is still falling.
Data released on Wednesday showed average weekly earnings growth including bonuses slowed to 0.7 percent in the three months to August compared with a year earlier. Inflation in Britain in September stood at 2.7 percent.
A survey from the British Retail Consortium showed retail sales recorded their second-weakest performance in September this year.
However, retail market research specialist Verdict on Monday forecast British retailers were set to enjoy their best growth in Christmas sales since the financial crisis.
The retail sector accounts for just under 6 percent of the British economy.
A first estimate of British gross domestic product in the third quarter is due to be released on Friday next week. Many economists expect growth picked up to around 0.8 or 0.9 percent from 0.7 percent in the second quarter.