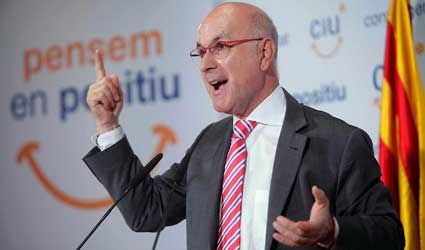 SOMEBODY tried to blow up Senen Pousa who is a Franco-supporter and proud of it.
More accurately somebody tried to blow up the town hall in Beade (Orense).  The council is controlled by the PP and Pousa has been mayor for more than 40 years.
No-one was hurt and the building remained intact although badly damaged.
"They're not going to change the way I think with bombs," he said afterwards.
Pousa, a Galician who has never hidden his respect and admiration for the dead dictator, another Galician, claims that no-one in the party has ever tried to bring him into line. 
Pousa went even further by claiming "there are many people in the PP who breathe the same air, but say nothing."
It is not an old man like Pousa who endangers democracy. On the contrary, he demonstrates that democracy can absorb and digest eccentrics. The real danger comes from the people who use bombs to make a political point.
Voices of reason
IS the PP milking the Cataluña question for all it's worth?
Better a sovereignty issue that unites most non-Catalans regardless of ideology, than the corruption issue that temporarily united the entire nation.
Meanwhile, voices of reason are becoming more audible and one of them belongs to Josep Duran Lleida.
His party Unio Democratica de Catalunya is one half of Convergencia i Unio (CiU), a centre-right nationalist party that is actually an electoral alliance. The other half, Convergencia Democratica de Catalunya is headed by Artur Mas, the regional president. 
Duran Lleida would settle for leaving conflict to one side, he said recently, and happily accept wider self-government powers.
Would Artur Mas settle for this?  Possibly, but he has schlepped so far along the independence route that turning back would not be easy, even supposing the radical ERC nationalists who shore up CiU would allow him to. And nor does he want to hear the inevitable "We told you so!"
Europe and Cataluña
DURAN LLEIDA also shot down in flames the separatists' belief that Brussels would bend the rules to keep Cataluña within the fold.
"It's impossible to say that Europe will save us a place. Europe left us with bare backsides after the War of Succession in 1714," he warned.
Old rancour lasts for centuries, especially when it's the result of an unwise choice.
Keep it flying
FASCIST symbols still produce more revulsion in Spain than the now rarely-seen Hammer and Sickle. Following the first municipal elections after Franco's death in 1979, however, the Red Flag flew over more than one town hall and Spain survived it, despite dire warnings and dark fears from the Right. 
The party slowly and unsurely petered out, humanely put to sleep inside Izquierda Unida.
As it has been pointed out, a few years of democracy achieved what Franco failed to do in 40.