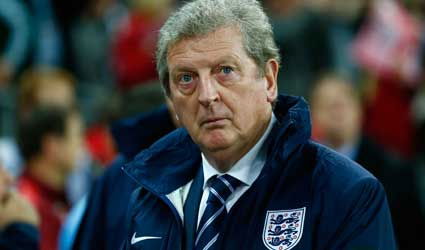 LONDON (Reuters) – Lauded by British media for guiding England to the World Cup one minute, manager Roy Hodgson had to defend himself against a racism slur the next after using an old joke as a tactical pointer in Tuesday's win over Poland.
Praise has been heaped on the affable Hodgson for his team's performances but Thursday's headlines, rather than basking in thoughts of the 2014 finals in Brazil, soured the mood of euphoria.
Hodgson was reported to have used the "feed the monkey" punchline from an old NASA joke when instructing right back Chris Smalling to pass the ball to livewire midfielder Andros Townsend.
The joke in question came about during the early days of space travel when NASA sent monkeys into space before manned missions.
A bored astronaut, tired of the monkey being given all the tasks by mission control, asks, "When do I get to do something", and was told, "In 15 minutes – feed the monkey".
Hodgson used the joke to emphasise that getting the ball early to Tottenham Hotspur dangerman Townsend, England's most effective player in the first half, was their priority.
However, it was apparently lost on some of his players who were reportedly "offended", according to British newspapers, leading Hodgson to say sorry.
"I would like to apologise if any offence has been caused by what I said at halftime," the 66-year-old told British media on Thursday. "There was absolutely no intention on my part to say anything inappropriate.
"I made this clear straight away to Andros in the dressing room. I also spoke to Andros again on Wednesday. He has assured me and the FA he did not take any offence and understood the point I was making in the manner I intended."
Townsend was quick to defend Hodgson.
NO OFFENCE
"I don't know what all this fuss is about. No offence was meant and none was taken! It's not even news worthy!" he said on Twitter while striker Wayne Rooney described the subsequent furore as "ridiculous".
FA chairman Greg Dyke also backed the England manager, saying he was "a man of the highest integrity".
"He has made clear there was no intent to say anything inappropriate and he was certainly not making any comments with any racist connotation," Dyke said in an FA statement.
"Roy has spoken with Andros Townsend and a number of the players since the game and he has been assured there are no problems within the squad whatsoever."
Former England forward Stan Collymore, now a radio pundit and prominent anti-racism campaigner, said no one should have taken offence and those criticising Hodgson should instead target the real problem.
"Racism is hard enough to keep on the agenda as it is without making everyone think a legitimate space tale should be cause for offence," he said on Twitter.