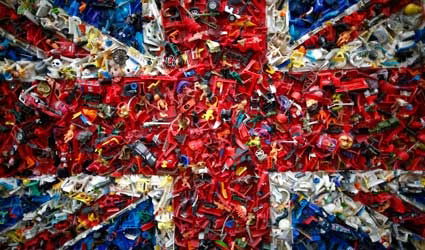 LONDON (Reuters) – The Frieze Art Fair got smaller in 2013, but industry insiders said that would make it no less important for international players who flock to London every October to see cutting-edge contemporary works.
The world's largest art fair combines works by household names and those from lesser known artists in a giant white marquee in Regent's Park. This year it features 152 galleries and runs from October 17-20.
Five works from leading American pop artist Jeff Koons displayed at the Gagosian Gallery, each likely to carry an estimate in the tens of millions of dollars, are only steps away from Finnish newcomer Pilvi Takala's "Drive With Care" video installation priced at around $11,000 (6,895 pounds).
"For me it's important to get the really young emerging artists spot on and bring through really great younger galleries as well as encouraging the really established …experienced galleries," Frieze co-founder Amanda Sharp told Reuters on Wednesday at the fair's bustling VIP preview.
Sharp, who co-founded the fair with fellow director Matthew Slotover 11 years ago, said that after last year's expansion into New York and the introduction of a concurrent Frieze Masters in London, they decided to cut the numbers.
"There are about 20-25 less galleries this year," she said.
Frieze is still the largest and best known of a growing number of similar events that have launched in the city on the back of its success.
It consolidated its position last year with the launch of Frieze Masters, a concurrent fair for historical art only a short walk away, which has 130 exhibitors.
Leading figures in contemporary art said fierce competition, and a smaller Frieze, have not diluted its key role for gallerists, artists and heads of the art world's major institutions looking to sell, buy and promote their work.