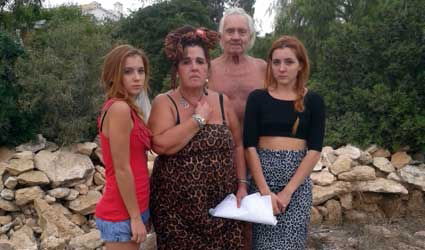 A FAMILY which has been fighting a controversial land grab of their garden had to call police after two builders started demolishing their perimeter wall.
Thirteen years after being told developers were to take the majority of their land, and six years since they last heard anything, the Wesenauer family are once again facing the fight of their lives.
April and Hans bought their finca on urbanisation Lomas de Don Juan, Campoamor in 1996, making the move from Austria with their three daughters: "We wanted a peaceful, simple existence, a home to bring up our family." That peace was shattered when in 2000 they received a letter saying they were to be victims of the LRAU land grab law which allowed developers to take land for development if they could prove it was for the good of the community.
Their property falls in the PAU-25 and the constructor wanted to take a proportion of their 3,450 square metre plot. To add insult to injury they were also demanding €44,000 from the Wesenauers for 'infrastructure costs'.
In 2001 night-time fires were set around their property destroying the natural pine forest, clearing the land for construction.
What ensued was years of legal battles and letters to every possible high authority including the Prime Minister and the EU.
Since 2007 all had been quiet and the family thought they had won. That was until two men arrived at their property last week and ripped out 60m of their perimeter fencing. April was in New York (USA) visiting her eldest daughter and flew back immediately as her husband has heart problems and cannot handle the stress.
Police were called and confirmed the workers had no licence or permit to justify the action. "I just want answers" said April. "I have had enough. My daughters have spent their whole lives living under this cloud. I just don't understand this or how it can be allowed to happen."
April has a meeting with Orihuela's Mayor tomorrow (Friday) to discuss the matter.