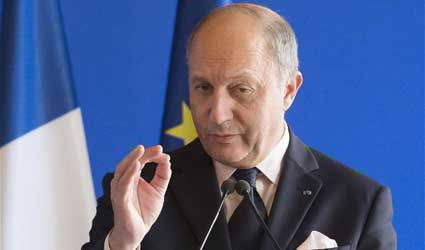 BANGUI (Reuters) – France, whose troops this year halted an Islamist assault towards Mali's capital, is now in demand from another of its former African colonies.
"Let's make up with the mother that feeds us! President Hollande we want your help!" read one banner as cheering locals welcomed France's foreign minister, Laurent Fabius, to Central African Republic at the weekend.
Plunged into chaos since mostly Muslim Seleka rebels ousted President Francois Bozize in the mostly Christian country in March, the nation is facing sectarian violence, malnutrition and a near total collapse of state rule.
Fearing their plight has been eclipsed internationally by conflicts in Syria and Mali, some see France as their best hope.
"We've seen coups before, but nothing like this," said local Bangui journalist Steve Niko. "In Mali the population suffered in one area, but here we're suffering everywhere. It's like our crisis has been forgotten."
The landlocked nation is rich with minerals ranging from uranium to diamonds. But decades of instability and official corruption have meant those potential riches have been little exploited and have far less been of help to the population.
As violence including murder and rape drives more than 440,000 people from their homes, there are just seven surgeons in a country of 4.6 million people to deal with bullet and machete injuries and one in 10 children die at birth.
"The Seleka rebels came with weapons, hurt us, burnt our houses and then there were reprisals from Christian militias," said a woman called Dore at one hospital in Bangui, recounting how she fled hundreds of kilometres on foot with three children all under the age of six.
Long seen by many in Central African Republic as meddling in its affairs after independence in 1960, France has intervened in the past, for example when it supported Bozize in 2006 against an earlier incarnation of northern rebels.
But official French policy now is for a more "hands-off" stance in such conflicts. Paris is all the more reluctant to be left to deal with another African hotspot after it felt allies such as the United States were hesitant to help it in Mali.
Nonetheless, its current 400-strong contingent secure the airport and patrol districts where French interests lie, a move that in itself has worked to deter potential looters.