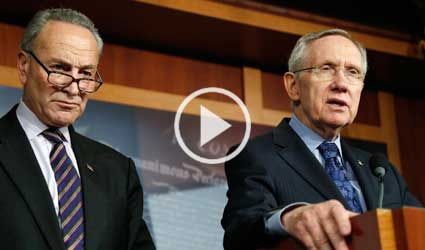 WASHINGTON (Reuters) – U.S. Senate negotiations to bring a fiscal crisis to an end showed signs of progress on Sunday, but there were no guarantees the federal government shutdown was about to end or that a historic debt default would be avoided.
IMF chief Christine Lagarde warned of "massive disruption" to the global economy if the U.S. debt ceiling, which will be reached on Thursday, was not lifted. That is when the U.S. Treasury runs out of authority to borrow money.
"We would be at risk of tipping, yet again, into recession," Lagarde said in an interview broadcast on NBC's "Meet the Press" program.
Friday's optimism that a deal might be forged over the weekend vanished on Saturday and the talks moved from the acrimony of the House of Representatives to the Senate.
Senate Majority Leader Harry Reid and Republican leader Mitch McConnell held talks that Reid later called "substantive". Reid did not provide details, but his remarks gave some hope that Congress soon might pass legislation to fund the government – in shutdown mode since October 1 – and raise its borrowing authority.
"I'm optimistic about the prospects for a positive conclusion to the issues before this country today," Reid said before closing the Senate for the day.
Earlier on Sunday, McConnell issued a statement calling on Democrats to accept a bipartisan plan that would end the government shutdown and raise the borrowing authority.
Both the Senate and House are scheduled to be in session on Monday, even though it is the Columbus Day federal holiday.
However, whatever deal the Senate might reach will still have to return for approval by the House, where the Republican majority faces strong pressure from its vocal conservative flank not to make concessions to President Barack Obama and his Democratic Party.
With time running out to reach a deal, MSCI's broadest index of Asia-Pacific shares outside Japan fell 1.1 percent on Monday while the safe-haven Japanese yen rose. The Tokyo stock exchange was shut for a public holiday.
U.S. stock index futures fell 0.7 percent to indicate a weaker opening on Wall Street.
U.S. stocks had risen strongly ahead of the weekend on hopes a deal to raise the $16.7 trillion federal borrowing limit was near. Failure to raise the debt ceiling would leave the world's biggest economy unable to pay its bills in the coming weeks.
Banks and money market funds are already shunning some Treasuries normally used as collateral for short-term loans, a sign that a deadlock over the debt ceiling could disrupt a key source of day-to-day funding in the financial system.