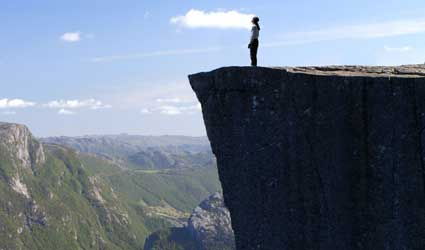 A SPANISH tourist, 26, was the first person to die at the Preikestolen cliffs in Norway.
The rock formation, which is 600 metres high and is located in southern Norway, has become a popular tourist attraction, visited by 200,000 people every year.
The young man had gone there with two other people who he had met during his holiday in Norway. When they were about to leave the area, he reportedly went back to take more photos. Shortly afterwards, the other two heard a scream but saw nothing. The body was rescued by helicopter.
The Norwegian press has said that it is a tragedy, but that it was "bound to happen one day." Discussions regarding the need for a safety barrier are now being held.