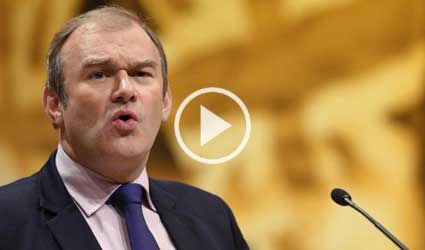 LONDON (Reuters) – Britain is "extremely close" to sealing a deal with France's EDF Energy to build the country's first new nuclear power station since 1995, Energy Minister Ed Davey said on Sunday, adding there was also Chinese involvement in the talks.
In an interview with BBC TV, Davey said he expected "tens of billions of pounds" of foreign investment to flow into Britain's nuclear energy sector in the coming years from China, Japan, South Korea and France.
"We're extremely close for a deal with EDF and if and when we get that deal I'll announce it to parliament and I think I'll be able to show that it's extremely good value for money for consumers," said Davey.
The British government and EDF have long been in talks over financial terms to build a new nuclear plant at Hinkley Point in Somerset in southwest England. A Chinese company is also expected to take part in the project.
Britain's energy policy has become a hot political issue in recent months with the two-party coalition government under fire from the opposition Labour Party, which says the government is not doing enough to stop energy companies hiking prices.
Prime Minister David Cameron has hit back, saying his Conservative-led government's plan is to diversify the energy sector as far as possible to maximise competition. He is likely to hold up a new nuclear deal as proof he is keeping his word.
Davey, who said he wanted to ensure that the cost of disposing of any nuclear waste and the cost of decommissioning was included in any deal price, said he'd also been leading negotiations with unnamed Chinese companies.
Negotiations between Britain and EDF have focused on trying to fix a minimum electricity price for power generated at the proposed plant as part of a new policy package that aims to reward forms of energy produced with low carbon emissions.
Foreign investment into the nuclear sector would not be limited to France, said Davey.
"It's really possible that we'll see massive Chinese investment not just in nuclear but across the board," he said. "And I think we'll see massive Japanese investment and Korean investment."
Foreign companies would be subject to stringent British nuclear safety rules, he added, saying "hundreds of billions of pounds" worth of investment was in the pipeline for Britain's energy sector overall.
The Financial Times reported on Saturday that Chancellor George Osborne would sign a deal in China this week allowing a Chinese state-run nuclear power company to help build a new plant in Britain.
The paper, citing unnamed sources, said Osborne would sign a memorandum of understanding to back the Chinese General Nuclear Power Group (CGNPG) entering a deal with EDF for the planned Hinkley Point plant.
Credit: NEWS24HRS (YouTube)