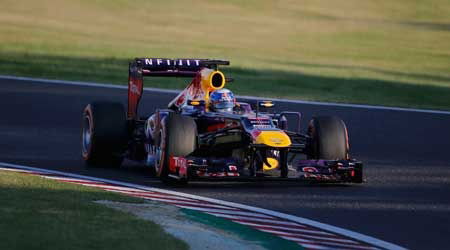 SUZUKA, Japan (Reuters) – Red Bull's Sebastian Vettel won the Japanese Grand Prix on Sunday but was made to wait for his fourth successive Formula One title after Ferrari's Fernando Alonso finished fourth.
The 26-year-old German's fourth win at Suzuka in the last five years left him with a lead of 90 points over Alonso with four races, and a maximum 100 points, remaining. The next up is India on October 27.
Vettel's Australian team mate Mark Webber, who had started on pole position, finished 7.1 seconds behind in a Red Bull one-two with Frenchman Romain Grosjean taking third place for Lotus on a sunny afternoon at the Honda-owned track.
"Ichiban (first), Ichiban," Vettel shouted in Japanese over the team radio, whooping in delight after taking the chequered flag at the end of a race that hinged on his ability to do two stops to Webber's three.
"Great job, thanks a lot for bringing the car back, unbelievable. You're the best team in the world. Thank you very much boys, I love you."
It was Vettel's fifth win in a row, ninth in 15 races this season and 35th of his career.
Asked on the podium about the championship, with the passionate crowd roaring in approval, he added: "Obviously we have a very good gap but we still keep pushing… it looks very good at this stage but it's not over until its over."
Alonso, who became Formula One's leading all-time points scorer, had no illusions about his chances.
"Even if Vettel doesn't finish all of the races I need to win nearly all (of them), so it's a matter of time," said the Spaniard.