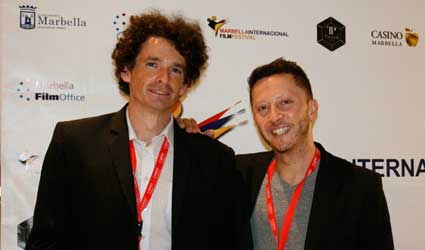 PREMIERING at the 8th Marbella International Film Festival was The All Dayer, a comedy written and directed by David Bryant (Dead Wood, Victims) and produced by Ben Richards.
The story of The All Dayer is a simple and yet quite familiar one: two mates having a bad day meet for a quiet lunchtime pint and end up partying and crawling from pub to pub.
A resident of London, producer Ben Richard told the Euro Weekly News this idea was behind the film's appeal.
"We've all had bad days and tried to overcome them having a drink at a pub," Richards said. "It's something we can all relate to, no matter where we come from," he added.
Described as a "sassy cocktail of The Inbetweeners, Human Traffic and Clerks," The All Dayer is, according to Richards, a "feel good film" in which that feeling transcends even though the film itself might not.
This is achieved by witty conversations and visual gags that would make the audience laugh "even if they don't speak English," Richards claimed.
"At the end of the day you see a sincere human trait in these characters and you just want to take care of them," he said.
When asked about a possible second part set in Spain, Richard replied with excitement: "Why not? It could be interesting to see this group of friends on a trip to Spain, especially when the Spanish have this lively way of celebrating life at bars and pubs."