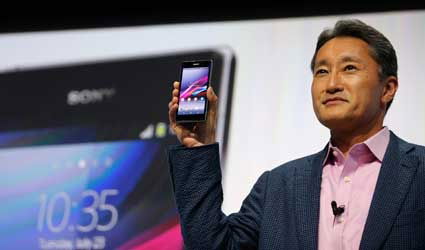 TOKYO (Reuters) – Sony Corp will move cautiously in tackling key overseas smartphone markets such as the United States and China as it strives to become the third-biggest smartphone maker in the world, CEO Kazuo Hirai told journalists on Friday.
Hirai has identified smartphones as a pivotal product for turning around Sony's loss-making electronics business, but its flagship Xperia handsets have not yet made much of a splash beyond Japan and Europe, which account for 60 percent of sales.
Sony ranked ninth among global mobile handset makers in the second quarter of this year, according to research firm Gartner. In the United States, it is only offered by No.4 carrier T-Mobile US Inc and it has not made major inroads into the crowded Chinese market despite contracts with the three largest carriers there.
"Our biggest priority is maintaining our share in Japan or increasing it," Hirai said.
"Next, we want to actively fight to increase our share in Europe, where we have a fairly high share. These are our two top issues, we are pouring a lot of management resources into them."
He added: "But getting into the U.S. market requires a lot of resources and marketing, so we have to go one step at a time."
Sony's home market just got tougher, however, as Apple Inc moved to cement its dominance last month by finally offering its iPhone for sale at the largest carrier, NTT DoCoMo Inc, after holding out for almost five years.
Hirai, however, said the Xperia's reputation in Japan should help to see off the threat from Apple.
"We have strong brand recognition here for Xperia's hardware and services," he said.
The company has set a target of selling 42 million smartphones worldwide in the financial year to next March.
Last year Samsung Electronics Co Ltd grabbed the top spot among smartphone makers, shipping 218.2 million phones according to research firm IDC, while Apple came in second with 135.9 million handsets shipped. Nokia Oyj, which is selling its handset division to Microsoft Corp, was third with 35 million.